Afficher la liste des catégories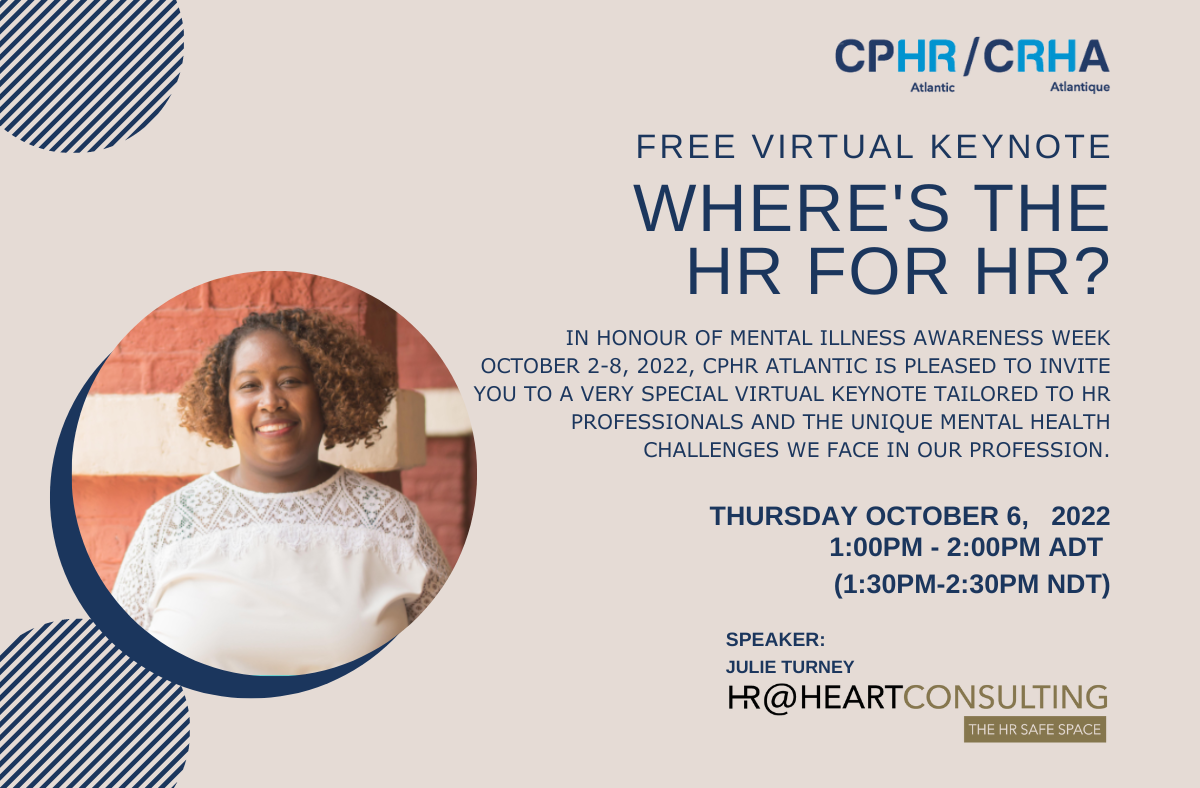 CPHR Atlantic Presents: Where's the HR for HR? FREE Virtual Keynote


Le 6 octobre 2022, 13h00 à 14h00


Online Webinar
Canada

Chapitre :
Webinaire
Langue :
Anglais
Date limite des inscriptions:
Le 6 octobre
Heures pour le renouvellement du CRHA:
1

Conférenciers :
Julie Turney, HR@Heart Consulting Inc.
Julie Turney is a heart centric people experience architect with over 16 years of experience in the HR profession.
She is the brainchild of HR@Heart Consulting Inc., a coaching firm she describes as the "HR Safe Space." Julie created her firm as part of her healing process through her second bout of HR burnout.
Today, Julie supports fellow HR professionals from around the globe who are struggling with burnout, compassion fatigue and frustration in their HR careers to get back on track and regain the lost joy in their HR careers.
Julie is also a TEDx & Public Speaker, Author of the book "Confessions of an HR Pro: Stories of Defeat and Triumph", Host of the HR Sound Off Podcast Show, and Lead Organizer of Disrupt HR Caribbean for Barbados, Jamaica & Trinidad.
Julie is on a mission to raise awareness around poor mental health in HR while demystifying the many misconceptions people have about our beloved profession and the people in it.

Description de l'évènement :
In honour of Mental Illness Awareness week October 2-8, 2022, CPHR Atlantic is pleased to invite you to a very special virtual keynote tailored to HR professionals and the unique mental health challenges we face in our profession.
"Many people laugh at the definition of Human Resources which refers to us as "the unofficial psychologist, lawyer, event planner, teacher, peacemaker, career planner and detective ."This definition just serves as a constant reminder to me of what led to each of my burnout episodes. The truth is many HR professionals are struggling to be all things to everyone, and I am on a personal mission to see that change. In this presentation, you will learn what HR burnout looks like and the positive steps you can take immediately to start taking better care of yourself from today. Join me as I share my story of how I went from HR burnout to now creating safe spaces for HR professionals to lean in, grow and thrive."

Précisions :
This is a FREE event!
This is not a CPHRNB Event so be sure to log your PD Hours.
CPHR NS Events
events@cphrns.ca