FREE webinar: Radical Self-care and Putting Ourselves First for Others


June 22nd 2021,


Zoom online

Chapter:
Webinar
Language:
English
Registration Deadline:
June 20th

Presenters:
Roee Ben-Eli, TELUS Health Virtual Care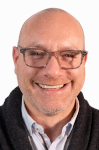 Roee Ben-Eli identifies first and foremost as a Registered Nurse with over 18 years of experience in various healthcare settings. Caring for others comes to him naturally. From his years on the Internal Medicine Unit and Emergency Room at the Jewish General Hospital, he groomed his skills in holistic nursing, caring for a person from the standpoint of both physical and mental well-being. He has since been the Director of Operations for a large medical center, worked as a consultant on an innovative addiction facility, was the project manager of a state-of-the-art specialized medical center, founded a holistic nursing clinic, and has trained as a Life Coach.

Today, Roee is the Mental Health Program Manager at TELUS Health Virtual Care, where Roee and his team have the privilege of leading the charge in the continued development and delivery of services that bring emotional and behavioural care to virtual care members every single day.

Description:
As workplaces became virtual in response to the pandemic, HR specialists sprinted to adapt and maintain a supportive work environment for everyone, including themselves. In the long run, caring for others first in the face of uncertainty can take its toll on our bodies and minds. Learn day-to-day coping techniques to avoid burnout, how to take care of yourself in order to better care for others, as well as strategies to shift the organizational perspective from headcount to human beings.

In this presentation, you will learn:
Addressing the mental health burden placed on HR representatives
Learn burnout prevention and how to alleviate "caregiver syndrome"
How to implement radical self-care to benefit you and those around you
Being a change maker within your organization to prepare for the "echo-pandemic"

Special Notes:
This event is not a CPHRNB Webinar, be sure to track you hours.
Register FREE on CPHRBC website, using access code NB-MEM21
Non-Member Fee: $29.99 + taxes
Both registration and payment are required for every person attending this webinar. Questions about registration or receipt can be directed to pd@cphrbc.ca.
Note: If you have not received your login access information the day prior to the webinar date, or for inquiries regarding online workshops, please email or call 604.684.7228.