FREE webinar: HR Technology in a Post Pandemic World


November 30th 2021, 1:30 pm to 2:30 pm


Online - Live Webinar

Chapter:
Webinar
Language:
English
Registration Deadline:
November 28th
CPHR Renewal Hours:
1

Presenters:
Marnie Larson - CEO, StarGarden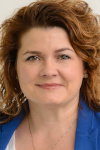 Marnie Larson, as CEO oversees all of StarGarden's operations in Canada, USA and New Zealand. With over 20 years of experience in the HR and Payroll software industry, Marnie specializes in human capital management, payroll, human resources and time and attendance solutions. Her previous positions at StarGarden include COO, Manager of Operations, and Product Consultant.

Active in her community, she currently serves on the board of the Better Business Bureau Lower Mainland, South Coast BC Transportation Authority Police Board and Community Living BC. She has served on the boards of Simon Fraser University's MBA Alumni Association and the Wired Woman Society, where she worked towards setting the overall direction and strategy for the organizations. She holds an MBA from Simon Fraser University and a Bachelor's Degree in Commerce from the University of British Columbia.

Description:
HR Technology has come a long way in the past few years, but the pandemic has made us take a step back and rethink our processes and how we could make better use of our HR Technology. Join us as we discuss what we have learned about HR Technology during the pandemic and how we can take those lessons and improve upon them.

In this presentation, you will learn:
How to make better use of your HR Tech
Top HR issues that the pandemic highlighted and how to learn from them
What has this pandemic taught us and how has the use of HR Technology changed
Who should attend:
All Professionals and Consultants. Particularly, those in Leadership, HRIS, and Strategic positions.

Special Notes:
This event is not a CPHRNB Webinar, be sure to track your hours.
Register FREE on CPHRBC website, using access code NB-MEM21
Non-Member Fee: $29.99 + taxes
Both registration and payment are required for every person attending this webinar. Questions about registration or receipt can be directed to pd@cphrbc.ca.
Note: If you have not received your login access information the day prior to the webinar date, or for inquiries regarding online workshops, please email or call 604.684.7228.