Closing the Gender Gap in the Workplace / Free for all!


March 18th 2021, 1:30 pm to 2:30 pm


Live Online - Zoom Webinar

Chapter:
Webinar
Language:
English
Registration Deadline:
March 15th
CPHR Renewal Hours:
1

Presenters:
Caroline Codsi, Founder & Chief Equality Officer, Women in Governance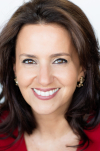 Caroline Codsi is the Founder & Chief Equality Officer of Women in Governance, a non-profit created in 2010 with mission to help women access decision-making bodies and male dominated fields through advocacy, major events, mentoring programs, governance training and a Parity Certification.

A Citizen of the world having lived on three continents, Caroline was born in Beirut and grew up through the civil war. A highly sought-after speaker, Caroline has addressed audiences across the globe, including two TEDx. She was nominated by Prime Minister Justin Trudeau on Canada's National Gender Equality Committee.

Caroline is recognized as a Top 20 Diversity Leading Figure in Quebec, Top 75 Canadian Immigrant, Top 100 Most Powerful Women in Canada and Top 100 Entrepreneurs changing the world.

Description:
When it comes to closing the gender gap, many tools can make a difference. The organization can offer women at all levels of its hierarchy training and mentoring to achieve career advancement, thus creating a female pipeline of talents.

However, to achieve long term results and retain talents, the corporate culture has to be nurtured too. This is where having a tool to assess that the organization's practices, programs and actions are geared to facilitating the progress towards equitable representation of women at all levels, until parity is achieved and sustained, is key.

Why are diversity and inclusion important, what are the benefits to the organization and how to reach parity will be covered during this presentation.

In this presentation, you will learn:
Current status of gender equity in Canada
Understanding core concepts of Inclusion & Diversity
The positive impact of the presence of women in decision-making bodies on an organization's financial performance
Opportunities & Benefits of diversity, inclusion and intersectionality
The Women in Governance holistic approach to closing the gender gap in the workplace

Special Notes:
This event is not a CPHRNB Webinar, be sure to track you hours.
Register FREE on CPHRBC website, using access code NB-MEM21
Both registration and payment are required for every person attending this webinar. Questions about registration or receipt can be directed to pd@cphrbc.ca.
Note: If you have not received your login access information the day prior to the webinar date, or for inquiries regarding online workshops, please email or call 604.684.7228.